Message from the President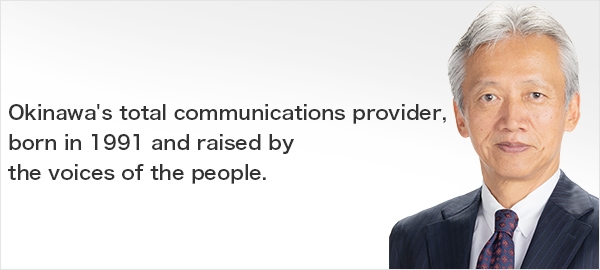 In June 2021, Okinawa Cellular Telephone Company celebrated the 30th anniversary of its establishment. With our corporate philosophy of contributing to the development of Okinawa's economy through our businesses, we have remained committed to preserving resilient and high-quality communications as the total communications provider for Okinawa, and at the same time we have grown along with a wide range of local companies and partners. For this, we feel tremendous gratitude toward all the people of Okinawa prefecture for their support.
As Okinawa's total communications provider, we will strive to develop our 5G mobile communications system and enhance and expand the communications infrastructure throughout the entire prefecture, including the remote islands, as well as providing highly dependable communications services that are resilient to disasters. Anticipating the increase in traffic with the spread of 5G along with response to potential large-scale disasters such as Nankai Trough earthquakes, we began operations of Okinawa-Kyushu submarine cables in 2020.
And in November 2021, construction will be completed on the Okinawa Cellular Forest Building, a safe, secure, and smart rental office building with an earthquake-resistant structure that also houses an urban model data center. We aim for this to become a smart building that brings together companies utilizing 5G, IoT, and ICT and spreads information from Okinawa to the rest of mainland Japan and the world.
We are also working with companies in the region to proactively promote new services that address local challenges.
One of our initiatives to solve local issues is a demonstration experiment for online medical consultations on Yonaguni Island, which aims to improve the quality of medical care for all island residents. And in Taketomi Town, we are working to solve distribution issues by conducting a demonstration of logistical deliveries using drones, aiming to improve the living conditions for islanders.
In our agricultural business, we have built ICT plant factories on Minamidaito (South Borodino) Island and other remote islands, which have enabled us to provide fresh and pesticide-free leafy vegetables to island residents every day. We have also launched hydroponic cultivation of strawberries using ICT factories in Ogimi Village, enabling us to deliver safe and dependable strawberries (Churashima Berries) grown in the prefecture to Okinawans all year round, earning support from customers.
To address environmental issues in Okinawa, we have announced our Clean Energy Roadmap 2030 as part of the commemoration of our 30th anniversary. We have set our own carbon emissions reduction target as "net zero by FY2030" based on the long-term goals of the Paris Agreement adopted at COP21, the Japanese government's global warming countermeasures, and the Okinawa Clean Energy Initiative, which aims to achieve a decarbonized society in Okinawa Prefecture. We will continue to contribute to environmental conservation for Okinawa and for the world.
Finally, let me present our new Brand Message: "Our Mind, Timeless  Our Challenge, Timeless" and "With hearts full of love and gratitude for Okinawa, our challenge will continue. Now and always." With this motto, all parts of our company will join together as one to create huge excitement and new value that exceeds our customers' expectations. We look forward to your continuing patronage and support.
June 2021